Japan. What can be said about Japan that countless others haven't already said? Once you step foot into this neon wonderland, the country takes a hold of you and doesn't let go even after you are securely back in your seat, wheels-up, climbing back out of Narita towards home. It will leave you bewildered, obsessed. Everything you know about travel, about food, and about people, will be turned upside down. As our favorite tattooed CNN travel host alluded to on one of his many forays into the country, Japan is an exercise in experiencing the new, the very very old, and the undeniably different.
For many, the entry point to Japan is Tokyo. Do yourself a favor, if this is your first time to the country, make sure your point of entry is Tokyo. Nothing I can write will prepare you for your first few hours here. Stepping off of the plane into Narita, or if you're lucky the much closer Haneda, you are instantly transported to a world that is only vaguely reminiscent of anywhere else you have been before. For every moment that resonates familiar, there are a dozen things that will disrupt your sense time and space.
Depending on your time of arrival, you'll experience one of two sides of this city. For me, arrival in the early morning meant that I was introduced to it gradually, with an almost eerie sense of calm. A forty-minute taxi ride from Haneda showed me glimpses of Tokyo in a time-lapse fashion; skyscrapers and pagodas peeking out at me in the brief respites of open light that broke up the darkness of the tunnels. My previous study of maps of the city did me no favors as I was instantly disoriented by the Japanese road signs and sheer vastness of the Tokyo skyline. I felt lost... And I was exhilerated. Through the rain-soaked window, my eyes darted from one thing to another as the sun slowly rose up out of the concrete monoliths and bathed our path in a serene glow. I was witnessing a country come to life. Tokyo was stepping out blinking into the morning sun, stretching as it shook off the hangover of another neon-drenched, salarymen escapade. This was a routine that had played out thousands of times before. I watched the shop owners sweeping their sidewalks and the coffee shops flicking on their lights; this was an experience that had changed my life forever. I just didn't know it yet.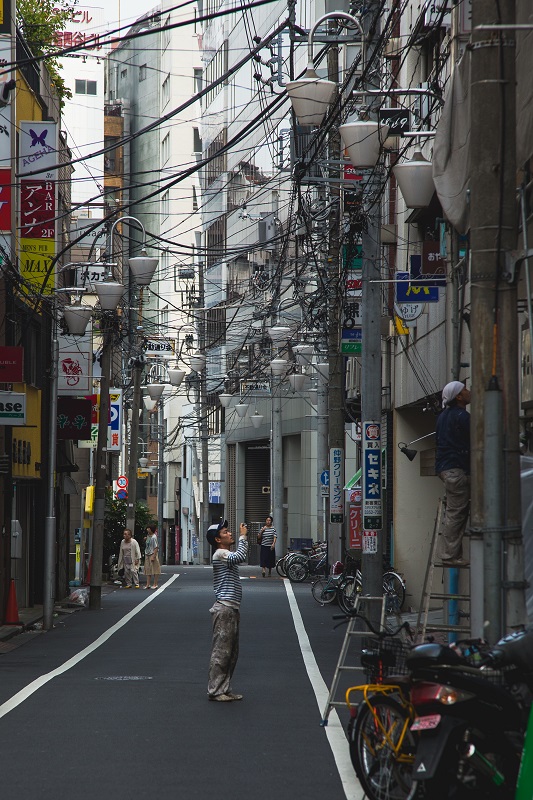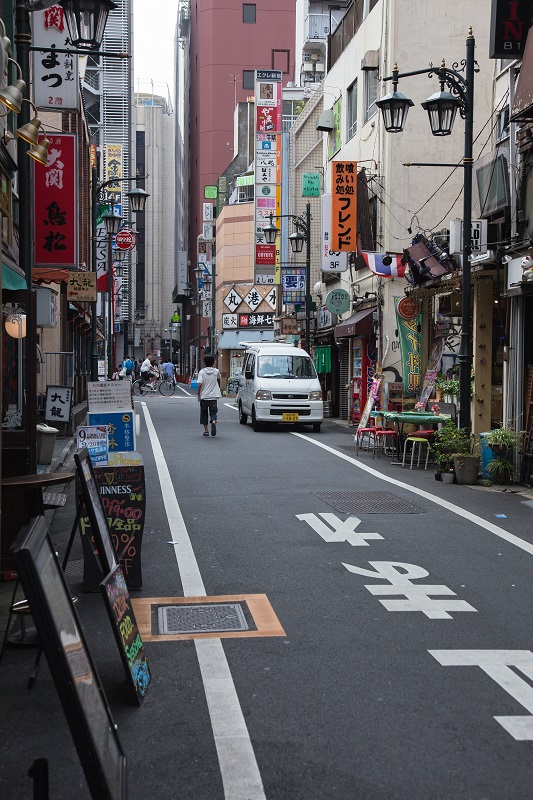 Arriving at the Park Hyatt hotel in the Shinjuku neighborhood, I was whisked away and taken care of with immaculate hospitality. At first I chalked this up to the caliber of this hotel. I mean, come on, this is the infamous Park Hyatt, the hotel of Bill Murray and Scarlet Johannson fame. But as my time in Japan stretched on, it was clear that service and quality is the cornerstone of this society. Whether you're arriving at a five-star hotel in the eye-wateringly expensive Tokyo hotel market, or waiting in line to slurp noodles in a basement bar with the salary men during the lunch break, my experience was consistent. It was always attentive and personal. It was uniformly excellent. The care this country takes to make sure their product is of the highest quality is something that will make your trip home to reality that much tougher of a pill to swallow. Those of you lucky enough to travel to Japan on an Asian airline, especially those of you sitting towards the front of the plane, will have had a taste of this already. Service is taken seriously here.
The Park Hyatt Tokyo is a stunning hotel. If you're as lucky as I am and have the chance to stay here, you will live between the 39th and 52nd floors, surrounded by glass, seemingly floating above the city. It took me a while to come to terms with my new reality. Sitting on my hotel room window sill on the 42nd floor, realizing that Tokyo itself lay sprawling beneath me, is a moment I don't think I will ever, could ever, forget. For as long as I can remember, to visit Japan was an unrealistic dream for me, but here I was, sitting hundreds of feet above its epicenter. Whether it was the jetlag, dehydration, or something else entirely, I am not ashamed to admit that this was an emotional moment. Even now, as I sit thousands of miles away, typing this brought a quick halt to my breath. Here I sat, and out there, stretching for miles in every direction, was Tokyo.
Do yourself a favor and spend as much of your time in Tokyo as possible outside of a taxi. You'll thank me later. What is essentially a necessity in other cities around the world is most often a hindrance to you here. There are only a few reasons, if any at all, to take a cab. (Since I took a taxi when I arrived in Tokyo, I realize this makes me a hypocrite, and for that I apologize. But it was only after my return to the airport using the aptly named Limo Bus, at a fraction of the price and in incredible comfort, that I had realized my mistake.) When you're not peering out over the skyline from a pristine, stratospheric hotel lounge, Tokyo is at its best seen walking at street level. There is a sense of purpose and order to how its citizens move about the city. Public transportation is easy, punctual and almost shockingly sterile for a metropolis of over 30 million people. Once you're in your neighborhood of choice, go and get lost in its arteries. This city is safe. And not just compared to other big cities safe, but Disneyland-safe.
As much as the feel of each neighborhood changes from block to block, the city as a whole transforms from a quietly bustling hive of productivity to an electric buzz of guarded debauchery as the sun falls in the sky. Nighttime in Tokyo is special. As I alluded to earlier, if morning in Tokyo is a steady and measured introduction to Japan, arriving at night can be an unapologetically jarring transition into the most exciting place on earth. Neon-lit Akihabara is a gadget-lovers paradise, filled with equal parts technology and cosplayers. The commuter hubs of Shinjuku and Shibuya shed their practiced and conservative shells to give way to a boozy haze of dimly lit, smoke-filled whisky bars. The indescribable spectacle of the Robot Restaurant and the tiny bastions of inebriation tucked into the alleyways of Golden Gai (like the one-of-a-kind Albatross, try for a seat on the small third "floor") play off of each other to provide the adventurous with a night they won't soon forget... albeit hazily.
In Tokyo, it's easy to drink hard. City streets are lit up like Times Square for as far as the eye can see, with indecipherable signs explaining in Japanese what waits for the curious on each floor of those modern fortresses. Basement bars sit below street level eateries of all kinds, and second-thru-seventh floor karaoke bars loom high into the sky. Inventive and charming joints, such as mixology bars like the highly reviewed Bar Orchard where a plate of fruit is the bartender's menu, are tucked behind elevator entrances everywhere. Then, when it seems there is no relief to the madness in sight, you stumble into a Buddhist temple, gently lit by burgundy lanterns, and your rushing mind will violently lurch to a halt. There is much more to Tokyo than the lights on its surface. You're immediately reminded this isn't Amsterdam or Rio. This is a different world entirely.
The next few days were a whirlwind of sights, sounds and smells. Oh my God, the delicious smells. For as important as it is for me to highlight the impeccable level of service in Japan, it would be a damnable offense to omit this simple truth; there is not, and cannot be, a better place on earth to eat. Not Paris, or London, or New York. Not Italy or Brazil. I've been to those places and I have eaten well. But I repeat, Japan has the best food in the world. Home to more Michelin-starred restaurants than any other city, Tokyo is a gastronomical mecca of epic proportions. Do yourself a favor, early on in your visit, even if it's in the early morning, eat sushi. If you talk to people who have been to Japan they will be quick to name off a few of the great places they had this most Japanese of delicacies. There are three-star chefs everywhere in Ginza serving the perfect nigiri, there is the fresh-as-can-be Tsukiji fish market and its infamous sushi breakfast, and there is a sushi shop on just about every other corner of the city. While I had an unbelievable experience at the hands of the skilled and humble chef at Sushi Iwa (in Ginza, I really cannot recommend this place enough) and I have had friends eat at the famous shops near the fish market, the honest truth is that it's nearly impossible to go wrong here. It doesn't matter where you go. Just eat sushi. And eat it often.
Remember, though, that Tokyo is a hugely dense and dynamic place; the show must go on. The gourmet gluttony should not, cannot, end here. Japan is stuffed with world-class wagyu steakhouses, delicious and unique street food (fried batter and octopus, anyone?), and the ubiquitous noodle shop. Eat everywhere and try everything. But, if there is one meal I could magically transport back to Columbus, Ohio and have every day for the rest of my life, I wouldn't need more time than a second to rightfully choose the ramen noodle lunch. I truly believe this is the closest I will ever get to a bonafide religious experience. Let me try to transport you to Friday, September 16, 2016. It was around one o'clock in the afternoon and the city was getting hammered by torrential rain. My girlfriend and I were exhausted, having just arrived in Japan that morning. We were now in Shibuya, a bustling neighborhood made famous by its huge and overwhelming eponymous crossing. We were hungry and we were soaked. Due to some diligent research on my partner's behalf, we at least had a plan for lunch. If it wasn't for her, I would probably still be wandering the streets of Tokyo, most likely starving, but probably quite content to attempt to subsist solely on the city's sights and sounds. Thankfully, and thanks to her, we had a mission; keep an eye out for the red banners.
After a short time, made even shorter because getting around Japan is actually a really pleasant experience, we found it. The gates to heaven. After a wait on the perilously wet steps of the tucked-away basement restaurant, we made it to the magical machine that translated our button pushes and a few hundred yen into a meal ticket to our own personal Shangri-La. Moments later and we were seated at a partitioned bar, as anonymous hands placed a steaming hot bowl of noodles, broth, green and white onions, pork cutlets, and hot sauce in front of me. A moment later those presumably same hands placed a tall, foamy glass of ice-cold Asahi beer on my counter. As quickly as they appeared, those hands vanished behind a waving, bamboo curtain. As strange as it seemed, we were hungry and wet and we wasted no time analyzing our situation. It was time to eat. The ramen was a piping hot mixture of spicy and savory, each bite a love letter to comfort food from around the world. When my over-eagerness punished me with a burnt tongue, a long pull from my icy beer was enough to cure it. I think it cured everything. And then, all too soon, and much to my dismay, it was over. As unceremoniously as it started, we walked back out into the rain, umbrellas up, our stomachs and spirits more content than ever before, and perhaps ever since.
This order of events was true of much of our stay in Japan. From discovering Central Park-rivalling green spaces with stunning temples and shrines, sampling as many obscure but delicious vending machine snacks and drinks as we could, or perusing the wonder that is the Japanese convenience store, each new experience would start out with some slight anxiety over looking like an idiot. Or infinitely worse, an ugly American tourist. This most foreign of places with the most foreign of languages has a steep learning curve. But in the end, we were consistently left feeling exhilarated and honestly wondering how we had ever existed on this earth without this country in our lives.
We stayed in two more impressive hotels in Tokyo, the Grand Hyatt in Roppongi Hills and the Conrad in Minato. The former is a bustling, cosmopolitan behemoth, with nine restaurants on site. We even stumbled into a Belgian beerfest outside of the hotel, apparently celebrating the 150 years of Belgian-Japanese friendship. In truly Japanese fashion, I have never, and probably will never, experience a festival as organized as this one. Glass washing stations every few feet, a token system for 120+ beers color coded by region and type, followed by a giant rock-paper-scissors game that included the entire audience? Only in Japan. The Conrad was a night spent bathed in pure luxury, with an upgraded suite, more amenities than the two of us could have ever used (who needs two toilets, a separate living room, four TVs and a walk-in closet?) and a view over the Tokyo Bay that quite simply left me awestruck. The room also came with the famous Conrad bears and rubber ducky, which is worth the price of admission on its own in my book. While some hotels were better than others at that sort of intangible, behind-the-scenes, almost paranormal level of service Japan is famous for, all three hotels were uniformly excellent. If you have the budget, as rooms start at $500 a night and can easily climb into the quadruple digits, you can't go wrong with any of them. But something tells me, when it comes to hospitality, it's tough to go wrong at all in Japan.
Japan is a place that I knew had the capacity to change me in unexpected ways. What I wasn't ready for was the fact that visiting Tokyo, and Japan as a whole, would change the way I look at all aspects of my life. There is just so much that this country gets right. At its most obvious, the service and food in Japan are head and shoulders above the rest of the world. There is an honor among the population here in delivering only what they believe to be the very best. There is a deeply rooted sense of order and calm that permeates the chaotic surface of Japan's immense cities. Perhaps deeper still is the sense of mystery that Japan left me with.
After just ten nights, one can only expect to scratch at the outer layer of this complex and friendly society. The people of this country were simultaneously warm and somewhat distant. The Japanese pride themselves in their homogeneity, and in some ways, for better or worse, it has protected them from some of the pitfalls most other developed nations now face. Unfortunately, it has also left Japan with a rapidly aging population and many Japanese chronically overworked. One thing is certain, though, that while in any other country, feeling like an outsider would be considered a bad thing, I can't say I felt that negativity here. Now, after visiting Japan and returning home, I find myself longing to be an outsider there again, to bear witness to the incredibly nuanced and complex performance that is Japan. How has this country changed me? Well, I'm not completely sure I know. I'll be reminiscing about Japan for the rest of my life, always rediscovering what it meant to me to be able to experience this most fascinating island nation. But I can say this. Japan will be the first place on my long list of destinations where I will break my cardinal rule and visit more than once, even if it means missing out on something else. Japan gave me my first hit of its addicting allure for free, and it knocked me on my ass. Now I will do anything to get my fix.
- C